Symbol Sector Table
"Symbol Sector" table is located in Portfolio Slicer workbook "srcSymbol" worksheet. For each symbol you can assign Sector and Sensitivity. When starting using Portfolio Slicer, you can keep this table empty and then add data here then when you need to see additional reports.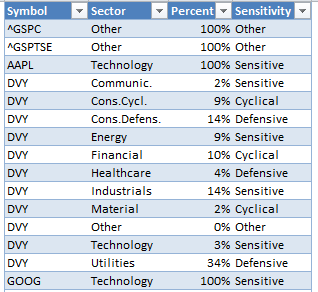 Below is a standard list of Sectors and their Sensitivity:
Sector
Sensitivity
* Cash
Other
Communic.
Sensitive
Consumer Cycl.
Cyclical
Consumer Defens.
Defensive
Energy
Sensitive
Financial
Cyclical
Fixed Inc.
Fixed Inc.
Healthcare
Defensive
Industrials
Sensitive
Material
Cyclical
Other
Other
Real Estate
Cyclical
Technology
Sensitive
Utilities
Defensive
Some symbols can be assigned to one sector, for example Symbol: "C" will be assigned to sector: "Financial Percent: 100%" with sensitivity: "Cyclical". Other symbols will have split sector allocation, for example symbol: "IYR" will have 2 records: "Sector: Material - 5%, Sensitivity: Cyclical" and "Sector: Real Estate - 95%, Sensitivity: Cyclical".

You can get info about specific symbol Sector/Sensitivity from financial websites (example morningstar).